Many digitally native brands are scrambling to find a successful business model. Online conversion costs thanks to rising costs of customer acquisition (Facebook & Google as a tax for online only brands) plus rising fulfillment costs to compete with Amazon is making online only less profitable over time. Coupled with the fact screen time is starting to slow means we as marketers must find other means to build awareness and relationships with consumers.
Back to the Future: Enter Brick & Mortar
Remember when every store was supposed to disappear according to the retail apocalypse of 2018? Well, turns out physical retail isn't dead, but boring retail is and the dirty secret in retail is that the online only model without omnichannel is basically impossible to become profitable. Retailers have re-tooled and focusing on the right things again including store experience and training their staff to give personalized service and support higher end consumers crave. Digital brands are opening stores or finding ways to partner closer with brick and mortar showrooms to have their products discovered and relationships formed. As more consumers tune out digital advertising, see below how consumers feel about ads, getting your products in from of consumers in real life (IRL) is what is going to dictate the next great brands: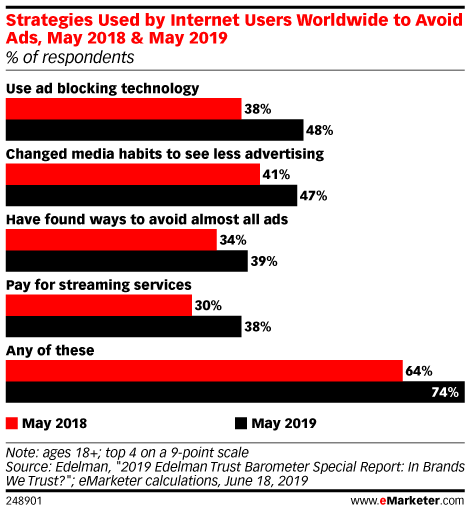 "Digital Only Brands are Overrated"
According to Andy Dunn, Founder of Bonobos who sold to Walmart says Digitally Native Brands are overrated and points to his success with a profitable wholesale partnership with Nordman's as proof. E-commerce retailers or online only can no longer hide from brick-and-mortar opportunities and must join the real world to have any shot at success.
Dunn mentions that "brands must have strong connections with consumers but be omni at the same time. Retailers that remain strictly online fail to recognize consumers want convenience and connection interacting with brands, people, and products face-to-face."
Introducing the "Halo Effect" of Brick & Mortar
So what's the payoff or ROI of working with physical retailers? Anywhere your products are sold or listed in real life can generate up to 110% more online sales in the retailers trade area. Consumers who shop in more than one channel also happen to spend more. In addition, those who buy online and pickup in store (BOPUS) tend to make additional purchases around 40% of the time. When customers by a branded product from a reseller and have a great experience, it leads to additional brand website visits and purchases of additional add-ons or accessories.
We as brands need to move beyond transactions and think about the relationships we want with resellers and our customers. In the long-term if we can build closer connections with B2C & B2B customers it will generate greater results. Even future customers Gen Z are increasingly using BOPUS to satisfy their needs for convenience and service. According to eMarketer 59% wanted items quicker, 44% want to make sure the item is there before heading to the store, and 18% want to see item in person first.
Looking to Partner Closer With or Develop Your Wholesale Channel?
Want to enhance the relationships you have with your customers? Or want to discuss the strategy to see how it can align with your sales goals? Great, get in touch to discuss combining your online and physical retail channels to get closer with your best customers, improve the quality of interactions B2C & B2B customers have with your brand. After all, in 2020 consumers are favoring experience over product and price as 86% are willing to pay more for a better experience, let's give it to them!