The role of the CMO is changing quickly. Traditionally the CMO has been responsible for producing targeted marketing campaigns to position sales teams for success. But over the past decade, organizations have realized that providing great experiences drives business growth. The introduction of more titles to the C-suite alphabet soup: "growth, digital, experience, and customer," to name a few have been introduced. However, many firms are not succeeding in delivering great experiences due to the one role that is missing: the chief collaborator.
Introducing the Chief Collaborator as Part of CMO Role
The chief marketing officer (CMO) is positioned perfectly to adopt these responsibilities by evolving their role to become the CMO collaborator. The CMO can determine how the entire organization needs to operate to deliver the experiences customers crave that build loyalty and drive business results. This role will be responsible for breaking down internal silos and getting teams to work better together for the sake of customer experience. To sustain consistent customer experiences that do not deviate in terms of quality investment in technology is paramount. Below are the key elements CMOs are expecting to be part of their roles and consideration when making technology investments: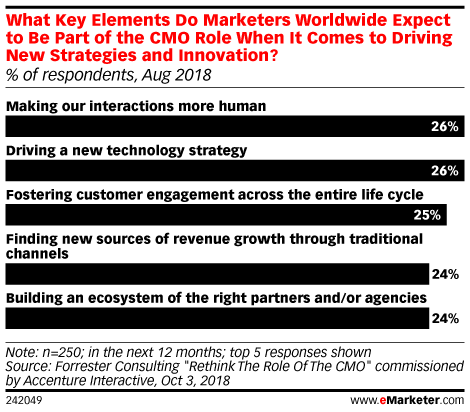 Making Interactions More Human
Retail brands focused on direct to consumer are missing experience and focusing exclusively on the cold hard transaction only. Consumers are seeking connectivity to a brand and a gathering place they can interact with others who share their passion. This does not happen online only. Even on a B2B level sales reps require more data and intelligence to make compelling sales presentations to their key accounts and allow the brand and their personality to win over new business. Positioning sales reps for success with more sales interaction to develop human connections with their accounts allows for the blossoming of successful business relationships. In-person experiences have been greatly under-invested in and can be a key differentiator.
Fostering Continuous Customer Engagement
With an online to offline platform, dealers are continuously engaged with new sales and products coming to their store as well as analytics of which products they should consider carrying to keep their assortment fresh and interesting to past and prospective customers. Every time an online to offline order occurs it creates engagement opportunities for sales teams to interact on a human level with the dealer and the dealers service to shine for consumers creating a continuous cycle to sell more.
Finding New Sources of Revenue from Traditional Channels
Modernizing sales and marketing technology can have a significant impact on traditional sales channels such as wholesale. For too long organizations have been focusing internally on direct to consumer, often neglecting the customers who bring in the most revenue that allow the organization to take risks. Without the CMO role focused on customer experience, digital and field sales teams will continue to conflict over internal resources at the expense of the main driver of growth, consumer experience. High volume merchants are very capable of selling more if your team is aligned in providing the tools to make key accounts more successful. Such tools include a B2B Commerce platform to make it easier for dealers to buy & sell your products.
Building an Ecosystem of the Right Partners
As a CMO it is difficult to deliver experiences in isolation. It takes an ecosystem of internal (marketing & sales teams) and external (reps & retail locations) to operate in unison to drive alignment and sales momentum. Especially as consumer shopping journeys are not confined to online or physical retail exclusively as 87% of consumers shop in multiple channels before buying. Often it is difficult to assess which partners to work with but ensuring weaker or uncommitted partners are distanced from new initiatives is critical to developing a strong network that operates as a cohesive team and can eventually be used to attract new partners.