There are a plethora of misconceptions around B2B Commerce that hold brands back from implementing. From a misunderstanding of the complex technology to a naivety around automation best practices that save both time and money, let's demystify these misconceptions to help your sales team scale and better support its customers.
B2B Customers Don't Want to Order Online
As the new generation of buyers managerial and purchasing power comes of age, their preferences (eCommerce) vary drastically from the previous generation (paper & phone calls). In general, next generation B2B Buyers have become conditioned to the B2C experience and the speed/ability to self serve.
41% say that self-service functionality is one of the top three ways B2B companies could make it easier for them to shop online.
Looking ahead, B2Bs plan to invest in web analytics or business intelligence (51%), email marketing systems (49%) and B2B ecommerce platforms (38%) by 2022
Buyers must build educate, build trust, and community before a purchasing decision is made – or even considered. An overwhelming majority (89%) of B2B researchers use the internet in their research process and they conduct 12 searches prior to engaging on a specific brand's site. If you are not online, or even offering a B2B Commerce experience you may find yourself on the outside looking in on a next generation B2B relationship.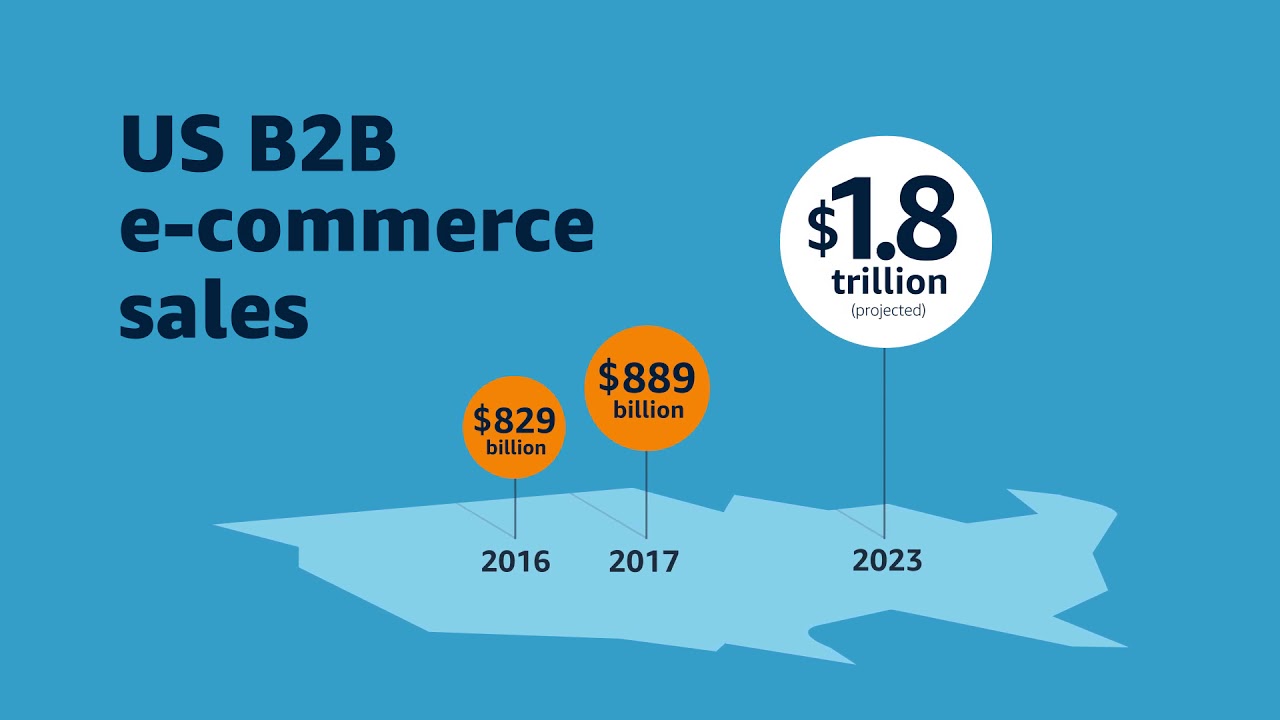 B2B Commerce is Cold
One of the best ways to make sure a customer doesn't go to a competitor is by building a long-term, personal relationship with them. This is why so many B2B businesses are family-owned and operated. There's a personal touch to being one of the family: phone calls, dinners, visits and trips.
An online store can seem cold in comparison, but it doesn't have to be. Now that Millennials are at the forefront of many B2B buying decisions, buyers are looking for a streamlined digital purchasing experience to complement the personal touch your team offers when interactions are required. In a Demand Gen Report, 55% said, when all other factors are equal (e.g., price, quality), "a digital buying experience is extremely important to selecting a vendor."
With the right mindset, technology should compliment and enhance the in person experience by understanding preferences and thoughts of your buyers before an interaction making you and your team look like mind readers. If your buyers require support, 24/7 chat technology can turn an online conversation on your store into a text on your phone prompting a phone call so both old and new generations can be communicated to efficiently and effectively in their preferred communication channel: text, phone, email or a variety of other options that works best for your customer.
Bottom line, with B2B Commerce the relationships you have with your customers are not going away, they are just being supported over new mediums buyers are gravitating towards to better serve themselves and their consumers.
Advantages of a B2B Buying Experience
Sell More to Existing Customers
Not only will you reach new customers, ecommerce also allows you to easily implement an automated cross-sell and up-sell recommendation program. This goes hand-in-hand with offering shoppers a personalized experience. You'll be able to help them find products they're looking for, without them having to ask — much like an in-person sales associate would do.
Attract New Buyers
Driven in part by younger buyers, but also from buyers of all ages that value the time-savings and convenience provided through ecommerce a B2B experience. A B2B Commerce experience is becoming a must have for new high powered buyers who increasingly have more purchasing clout. In 2019, digital B2B sales from all electronic channels grew 10.9% meaning eventually manual ordering processes will be impossible to scale as this growth rate continues. In order to future proof your business investing in B2B Commerce now makes sense.
Improve Response Times & Reduce Customer Churn
According to McKinsey Consulting, the top response as to why a buyer might look elsewhere, 42% claim poor response times where they cannot get an answer quick enough. In retail this could happen on evenings and weekends when your time is not around. A B2B Commerce platform can compliment the personal touch you offer when your customer success team is not around. If your B2B team is busy fielding calls exclusively and not allowing customers to order online you may not get around to others customers with pressing needs in a timely fashion resulting in lost business which is counter-intuitive to what you are aiming to achieve. With a B2B solution, for those that want to order online… Great! For those who don't your team now can spend more time and energy providing the individual support those merchants require.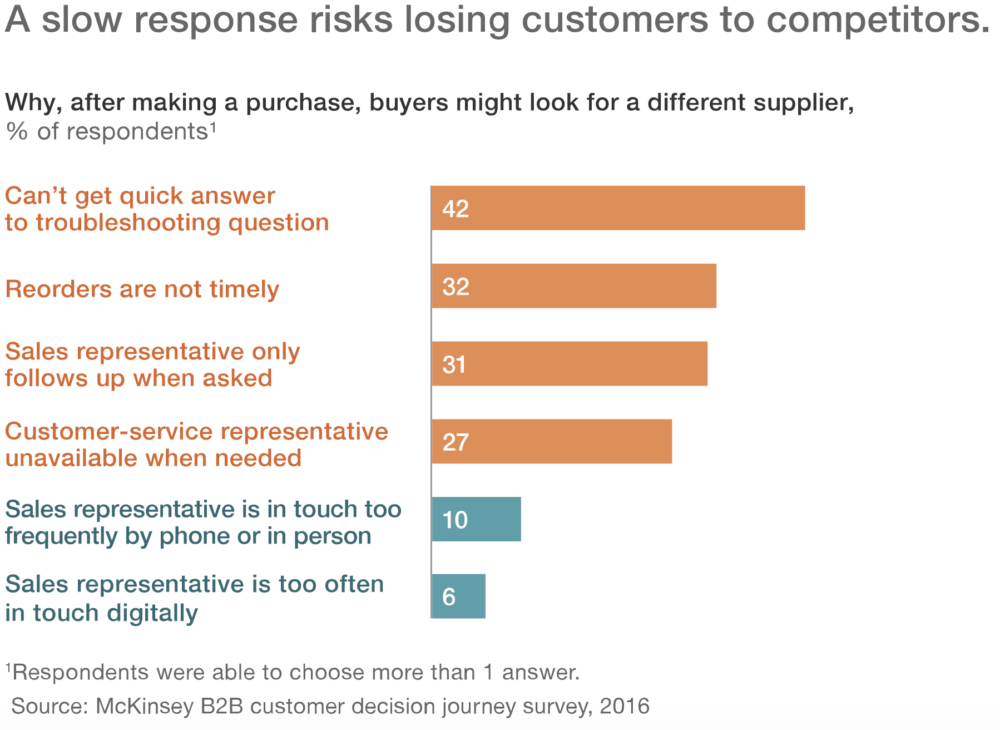 Better Data Analytics
B2B ecommerce provides the perfect platform for an organization to launch a comprehensive analytics campaign. With analytics, B2Bs can make better business decisions with in-depth analysis of sales effectiveness. You can generate various types of reports to understand how your business is progressing.
Analytics will help you to identify what's working and what's not for your business. With the right platform, insights for sales team members can be provided to turn data into future sales pipeline. You can find out what the customer is looking for on your site and accordingly take steps to boost site engagement. All in all, this feature will play a key role in the success of your organization.
Modernizing B2B Sales Operations
To modernize B2B operations, marketing, commerce and IT leaders must consider how they can change the company culture that's preventing them from providing an end experience customers want to use and return to use. There is a brighter future for B2B marketing as budgets are increasing across the board for digital investments (89% of B2B decision makers expect them to increase in 2020).
Looking to create a modern B2B buying experience that can make it easier for your best customers to buy and sell your products at scale? Contact us to further explore where we can learn about your sales goals and see if we can help.