Shoppers want it all, and they want it now. They want to shop seamlessly across devices, anywhere and anytime. They want online visibility into product inventory, store-based fulfillment of web orders and a range of delivery and pickup options. The changing habits of today's connected shoppers as more buying has shifted to e-commerce continues to influence retail. The rate of growth in eCommerce for the first time in over a decade is showing signs of slowing down. But, this is temporary as retailers are in a race to adopt fundamental cloud based technology to support future growth of eCommerce as the lines between online and physical retail stores increasingly become more blurry. The combining of online and physical retail sales channels, commonly referred to as omnichannel commerce, is the next big push of digital innovation. Omnichannel will allow any retailer to compete, and win, even against the World's largest retailer Amazon.
Digging deeper into the data, we see that the retail technology space is still undergoing a major transformation – it's just happening mostly behind the scenes. This report outlines the key areas branded manufacturers need to focus on to win on the retail battleground.
Growing Importance of Logistics and Supply Chain
Consumers want their online shopping experiences to be fast and convenient, indicating supply chain and logistics improvements are fuelling growth of online commerce by making it easier for consumers to shop online more often and receive their orders faster. Consumer expectations are higher than ever for free and fast shipping, making flexibility with returns and fulfillment more important than ever. As retailers struggle to adopt new cloud based technology to meet consumers elevated expectations
Thanks to Amazon, the new delivery standard is same day delivery. In fact, 49% of consumers said the availability of same day shipping would make them more likely to shop online.[1] Free shipping continues to be the top incentive, with almost nine in 10 consumers reporting that free shipping would make them shop more online, but with shipping costs outpacing inflation logistics which is lets say, not that sexy, is all of a sudden becoming a priority to delight consumers in an economical way.
One-day shipping (69 percent) and free returns (68 percent) also continue to be top drivers. The biggest jump over the past three years has been easier online returns, 58 percent saying a simpler process could make them shop more online and 60% of consumers prefer to return their purchase to a store. Same day delivery is anticipated to be the top driver next year.
So it's no wonder fulfillment has become a top investment area for retailers as 29% of capital expenditures last year went towards improving order management, delivery options, inventory visibility and returns management.[2] Now it's more about having the right products near the customer, and that means more points of distribution rather than a single point of distribution. As a result, retailers are investing in warehouse storage; where rents are up 6% over last year as businesses leased 70.1 million square feet of industrial space in the U.S. in the second quarter. To put this into perspective, this is the highest amount in more than three decades.[3] In a recent study, 71% of retail executives sited omnichannel fulfillment as a top or high priority for future investment.
So how can Brands support retailers and their investments?
In today's world where consumers are in the drivers seat in terms of where they spend their money with numerous options. You need to make buying from your company as easy as possible. Unless you are prepared to make equal investments into numerous warehouses or open a national network of retail stores to compete with your channel it will become impossible to provide same day delivery services and hassle free returns without partnering with retailers. Encouraging your retailers to transition into next generation supply chain and logistics technology will either make or break retailers and your business with them in the near future.
Partnering with Brick and Mortar Retailers to meet consumer expectations will become a necessity to accelerate sales.
Continued Integration of In-Store and Online Experiences
While the pace of online shopping continues to accelerate, consumers still prefer to shop in store for most products, which emphasizes the importance of combining convenience with experience. Even Generation Z, the youngest and most tech-savvy group of shoppers, still value the physical experience of stores as 64 percent prefer to shop brick and mortar.[4] And yet, our research also shows that shoppers are open to buying almost anything online, highlighting the potential opportunity for vendors to bring together a hybrid strategy that combines the best of both worlds linked through technology.
In fact, in the past year, more consumers have purchased items in store than
 on Amazon or a brand's website for most product categories – everything except for books and electronics. In the coming years, we expect to see that consumer preference for buying specific products in a brick-and-mortar store or on a website will be one in the same.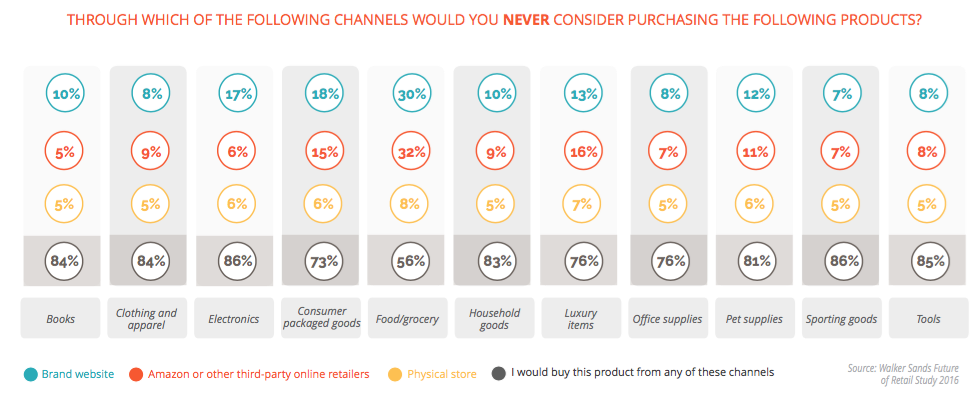 Most shoppers will gravitate toward the best brand offering the best experience, regardless of physical or virtual location, this will only be possible by combining online and wholesale channels.
Improved Collaboration Between Brands and Retailers Online and Offline
As Amazon continues to compete with name brands with their AmazonBasics private label in addition to a plethora of Chinese suppliers flooding the Amazon marketplace with imitation or knockoff products that devalue a brand. Many manufacturers will look to take their identity back and delist themselves from the behemoth. Amazon is already preparing itself by planning to open approximately 400 stores in the U.S. The next phase for the company is to become a fully vertically integrated company. This means supplying its own products right down to its own retail stores to own the entire channel to compete with… well, everybody. Such manufacturers already bucking the trend include Berkenstock USA as the company delisted their merchandise as have a few other niche brands.
So as consumers get used to the conveniences that Amazon offers, how can a brand offer something similar without being listed on the marketplace? Brands and retailers alike will seek out or establish alternative marketplaces to obtain exposure and sell their products. Big box retailers such as Wal-Mart and Best Buy have already started to leverage their brick and mortar locations by opening marketplaces of their own allowing vendors to sell products on their site for in-store pickup. At the specialty retail level, no dominant force exists and it is a dangerous strategy to become overly reliant on one customer as Amazon is demonstrating. This signals a need for more transparency and collaboration between suppliers and independent retailers in the form of shared customers and inventory data to improve the overall shopping experience. Retailers must invest in inventory transparency to ensure access is available across the enterprise or shoppers will likely go elsewhere to more efficiently meet their needs.[5]
Conclusion: Omnichannel for Brands Becoming a New Reality
While e-commerce offers new, unparalleled opportunities for accelerated growth, most retailers also are facing unprecedented challenges, and their very survival is in question. They must keep pace with ever-evolving technology and customer expectations. And omnichannel retailers are being pushed by shoppers to deliver a compelling, seamless experience across all channels. The lines of distinction between brick-and-mortar and digital experiences are forever blurred. Excellence across all channels is now considered table stakes for both brands and retailers.
The growth of e-commerce over the past few years has transformed the way we shop. And it's not just Amazon changing the game anymore. The future of retail isn't just about pure e-commerce either. With a growing emphasis on in-store technology and omni-channel strategies, the pendulum has swung back in the other direction, and it's important for brands to focus on finding the sweet spot in the middle and for retailers to invest in technology to facilitate better collaboration with vendors to meet consumer expectations. This will enable brands to create their own omnichannel marketplaces with orders fulfilled locally by their retail network with same day pickup/delivery with free returns & exchanges to store to win over consumers and become the brand of choice.
References:
[1] 2016 Future of Retail Study, Walker Sands Communications
[2] 2016 Future of Retail Study, Walker Sands Communications
[3] Retail Dive: Retailers Fill Warehouse Vacancies at Record Rate
[4] Fierce Retail: 64% of Gen Z Prefer Stores
[5] UPC Pulse of the Online Shopper, 2016