We've seen a war emerging in retail. Online vs traditional brick-and-mortar. Up until recently these two channels have been treated just as that, two distinctly different channels and have not played nicely together. The continued rise of eCommerce has revealed weaknesses that traditional retail cannot compete with. The endless aisle of products available online versus the finite space in a retail environment, lower prices, comparative shopping at the click of a button, lower operating costs, and nexus tax laws that grant advantages to pureplay online retail tends to tip the scale in favor of online and points to the eventual demise of physical retail. To date, we can see this happening as more local independent retailers close their doors due to declining sales and high operating costs.
But there is an emerging trend that indicates a bright future for all of retail alike, the rise of clicks and bricks retailing. As we have seen Amazon gobble up more retail sales and lead to the demise of many retail stores. All of a sudden, Amazon is considering opening their own physical retail locations. The company is using their digital intelligence online to influence offline decisions such as retail stores.
Amazon is not alone, Nike, Bauer, Trek, Frank & Oak, and Zappos among other traditional eCommerce giants are now opening up retail locations. These trailblazers of eCommerce are now coming to the realization that their customers assign a value to experiences. Being able to see and feel products in real life have value. Even Millenials who many considered to be exclusive online shoppers visit retail stores as often as previous generations as offline shopping is a social event they can experience with others whereas shopping online is very individualistic and lacks social engagement. We are social creatures after all.
Omnichannel Gives Consumers the Best of Online and Offline
Omni-channel or phygital (physical and digital) provides the best of both worlds. Customers can shop online and pick-up their purchase in-store. The hassle of returns and exchanges can continue to occur with that same store as well, no more shipping products back waiting to be paid. This model is referred to as click-and-collect and provides customers the convenience of online while cutting out the shipping fees and wait times for products to arrive. The big advantage to click-and-collect is that 63% of customers spend more money. Where do they spend more money? In the physical store of course and customers on average spend as much as 125% more than the original order.
Omnichannel Can be for Branded Manufacturers Too
Up until now omni-channel retailing was thought to be an experience that only a retailer would have between their online store and physical stores. As customers buying habits change and customers feel more comfortable buying online, what about branded manufacturers whom many consumers covet and perform their initial research before heading to stores? Opening a chain of physical retail stores is costly and competes with existing retail partners. But services like Shipearly.com allow branded manufacturers to integrate with their retail partners allowing dealers to be an extension of the brands online store. This new form of retailer integrated eCommerce bridges the digital divide and eliminates the competition many retailers face when brands start selling online. Just the same as click-and-collect except the click happens on the manufacturers website and collect occurs offline at a physical retail location owned by a value added reseller or dealer.
Customers often feel more comfortable purchasing larger ticket items knowing a local retailer is involved to service the product, and in the event of a return can handle that as well. As we see online retailers move into brick-and-mortar ShipEarly provides an easy way for traditional brick-and-mortar retailers to get online by leveraging their brand partners digital marketing efforts to drive sales and traffic to stores with no technological change required. Is the move towards brick and mortar with a click-and-collect model the way of the future? We think this is a winning model as it provides an incredible customer experience of being able to buy anytime, anywhere with a shorter path to purchase that is more convenient to the end consumer. After all, we are all reliant on customers and the more we can meet their expectations the more likely the sale.
Shipping Costs Outpacing Inflation
So as Click-and-collect becomes more popular, the question to ask rather than will physical retail survive is will pureplay internet retail survive in an omni-channel world. Over the past 10 years, standard shipping rates have risen by 82% far outpacing the rate of inflation with little to no innovation in the shipping industry. In order to be competitive in today's world many online sellers are offering free shipping and free returns/exchanges. eTailers will have to learn to survive on razor thin margins and reduced sales to boot as branded manufacturers develop closer relationships with their retailers and adopt an omni-channel eCommerce solution. As shipping rates continue to escalate, we anticipate the slow disappearance of pureplay eTailers and the rise of omni-channel brick and mortar retailers.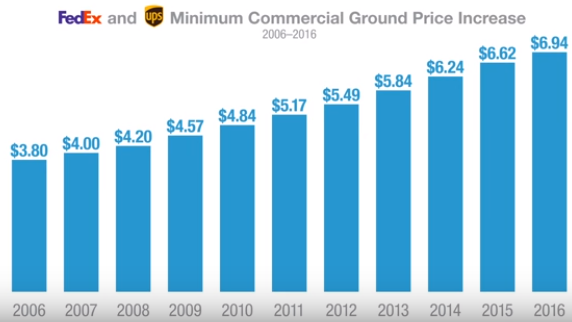 To learn more about ShipEarly, visit our website www.shipearly.com