By the end of 2018, worldwide ecommerce sales are expected to surpass $2.8 trillion. And yet, online sales only represent 11.9% of the global retail market. In July 2017, when Amazon acquired Whole Foods for a staggering $13.7 billion, the topic of O2O commerce exploded.
Why? Because even though consumers are used to buying things like books, fashion, and electronics online … the vast majority of all retail sales will still happen inside physical stores for the foreseeable future.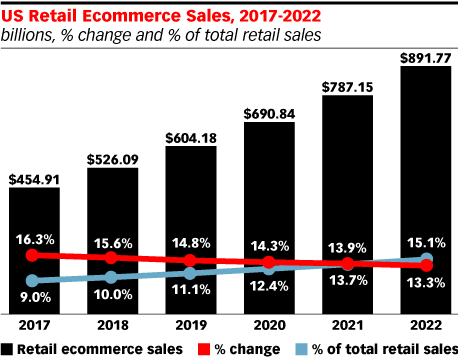 Vast Majority of Retail Sales Will be Influenced Digitally
With 87% of consumers starting their product search online and 92% of eCommerce growth coming from mobile, likely at a retailer, an online to offline strategy is paramount to being discovered, found, and validated by consumers who want to use all of their senses in the shopping journey.
Connecting the dots between online and offline, and sometimes back, represents a trillion dollar opportunity. What does it take to succeed in this environment?
The Case for Online-to-Offline (O2O) Commerce
Definition: online-to-offline (O2O) commerce is a business strategy designed to bring online customers to brick and mortar locations as well as create a seamless digital experience before, during, and after purchase.
Considering that almost every shopper conducts online research before making big purchases, channeling even a small percentage of online consumers to your offline stores would represent a massive potential for sales and loyalty with your channel partners.
O2O commerce lets companies treat online and offline channels as complementary rather than competitive:
In-store pickup of products purchased online with local store services such as install or assembly
Online purchase of products while in a physical store
Allowing online purchases to be returned to physical locations
An O2O commerce strategy is not only helpful for engaging and converting more consumers but its how they increasingly want to shop as 70% of consumers have bought items online with store pickup and 71% of shoppers prefer to leave with their purchase from a retail store. If your brand directs consumers to a location without inventory this is a disservice to the consumer and may result in lost sales. Letting consumers know in advance the item is or is not there is useful in preventing lost sales as well as creates an improved customer experience as it removes an unnecessary disappointing trip to the store.
Sell Everywhere Your Consumers Buy
Keep reading to discover how omni-channel is a new path forward, but if you'd like an executive guide distilling everything including strategy comparison, download The Enterprise Guide to Omni-Channel Commerce.
Inside, you'll get one-pagers detailing …
Comprehensive data on the opportunities and threats
Merchant spotlights for insights on combining sales channels
A checklist to consider when implementing an omni-channel program
Access the Guide Today
Major Ecommerce Companies Are Adopting the O2O Commerce Model
According to Brendan Witcher, a principal analyst at Forrester:
"Many customers want to have an experience that allows them to hold and touch and in some cases, try on, the products. Many shoppers still relish the experience of walking into a store and walking out with merchandise."
Even young people prefer the physical shopping experience. A global survey by CBRE Group Inc. has shown that 70% of millennials prefer shopping in stores, which is surprising considering that their demographic spends an average of 7.5 hours a day online.
A few years ago, smart ecommerce retailers started to notice this gap in the online shopping experience.
Starting in 2011 with men's fashion retailer Bonobos, a number of highly successful online startups such as Warby Parker, Harry's, and Modcloth opened retail storefronts that cater to this market. They allow customers to view and try on products in person, while distributing inventory directly from their warehouses.
Despite having success in the online-only market, Bonobos founder Andy Dunn identified the "online vs. offline conundrum" as an impediment to company growth.
After repeated requests from customers and a successful trial in their New York office, Bonobos opened the Guide Shop, where customers could try on their wares, place an order online, and have their purchased goods delivered the very next day. The first shop was so successful that Bonobos currently operates over 20 storefronts, with plans to expand to over 100 by 2020.
Warby Parker initially found success by offering cheap and fashionable eyewear in a direct-to-consumer commerce model. They opened their first physical storefront in 2013, and within a year had eight stores that were amongst the most profitable in the country. Warby Parker currently operates nearly 40 stores, and co-founder Neil Blumenthal expects to expand to hundreds or even thousands. Casper, the online direct to consumer mattress darling, also recently made plans to open up to 200 stores.
What Does All this Mean?
Consumers want the convenience of online with the service of physical retail. Opening up your own stores across the country is expensive and difficult to execute. The next best route to control the customer experience and journey is to partner with like minded existing in market retailers online and offline to grow your sales together.
Going Beyond Click-And-Collect Shopping
The convenience of click-and-collect shopping has made it one of the retail industry's biggest trends in last few years. In early 2016, it was reported that 72% of consumers were making use of click and collect services.
Being able to order online and pick up an item in-store is not only convenient, it helps fulfill our need for instant gratification and service bringing comfort to making a transaction. In a world where the latest movies are available on demand, and personal taxis can be called to our location within minutes, the ability to get things when we want them and how we want them is now considered the norm.
For manufacturers of retail brands, click-and-collect is a chance to convert online customers for your offline retailers. This demonstrating demand for your products, helps dealers better allocate showroom floor space and your products to their market, and builds dealer loyalty.
Final Thoughts on O2O Commerce
There are numerous opportunities for retailers to combine online and offline commerce into a complimentary shopping experience that keeps customers satisfied and increase profits.
And if companies like Amazon and Alibaba consider O2O commerce to be the next step in their ecommerce development, you can be sure that it will be good for the development of your business as well.