Everyone is investing in digital, inherently driving online customer acquisition costs (CAC) sky high. With higher CAC and free shipping (both ways) the new expected norm from consumers eCommerce margins are starting to erode. How can your brand get discovered and bought from new consumers in an increasingly noisy environment?
Diseconomies of Scale Driving Higher Acquisition Costs
Investors have been lured (some might say "suckered") into supporting "digitally-native" brands because of what they believed to be the lower cost, easily scaled, nature of e-commerce. Seeing how quickly Gilt, Warby Parker, Bonobos and others went from nothing to multi-million dollars brands, venture capital money poured in. What many failed to understand was the diseconomies of scale in customer acquisition. As it turns out, many online brands attract their first tranche of customers relatively inexpensively, through word of mouth or other low cost strategies. Where things start to get ugly is when these brands have to get more aggressive about finding new and somewhat different customers.
Here three important factors come into play:
Marketing costs start to escalate. As brands seeking growth need to reach a broader audience, they typically start to pay more and more to Facebook, Google and others to grab the customer's attention and force their way into the customer's consideration set. Early on customers were acquired for next to nothing; now acquisition costs can easily exceed more than $100 per customer.
More promotion, less attraction. As the business grows, the next tranches of customers often need more incentive to give the brand a try, so gross margin on these incremental sales comes at a lower rate. It's also the case that typically these customers get "trained" to expect a discount for future purchases, making them inherently less profitable then the initial core customers for the brand.
Questionable (or lousy) lifetime value. It's almost always the case that customers that are acquired as the brand scales have lower incremental lifetime value, both because on average they spend less and because they are inherently more difficult to retain. It's becoming increasingly common for fast growing online dominant brands to have large numbers of customers that are projected to have negative lifetime value.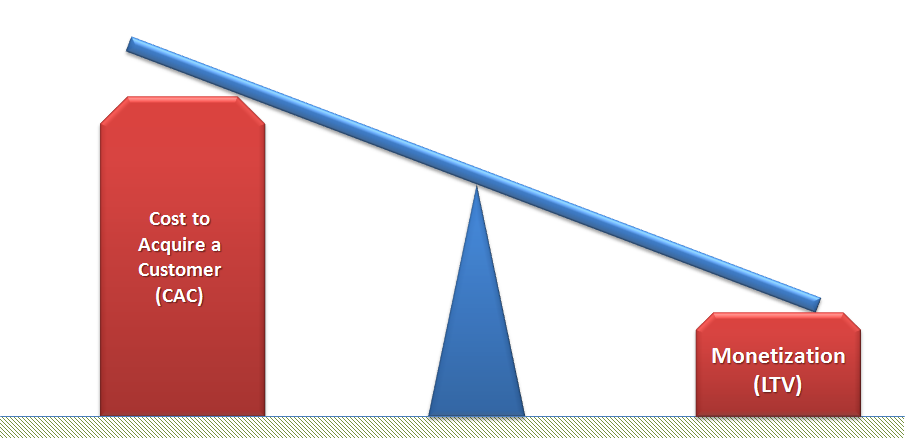 Slowly but surely the world is starting to wake up to this phenomenon. Spending 100's of dollars to acquire your next customer is not financially feasible. "Sophisticated" investors are backing off the high valuations that digitally-native brands are seeking to fuel the next stage of their growth leaving many companies stumped how to obtain lofty expectations.
Solution: Stores
Getting new consumers involved in your eco system is the holy grail to sales and marketing. The solution to lower customer acquisition costs is closer than most people think. You can spend more money seeking customers in the same channel, or you can grow the pie by leveraging the network of others in a different channel and expose your brand to entirely new consumers.
At a time when most brands and retailers are shying away from brick and mortar, the winners are investing whether opening their own stores or partnering with local retailers and winning. When a new store opening occurs in an area it can increase local web traffic by as much as 84%, according to research published by U.K.-based commercial real estate company British Land, which used web data from Connexity Hitwise.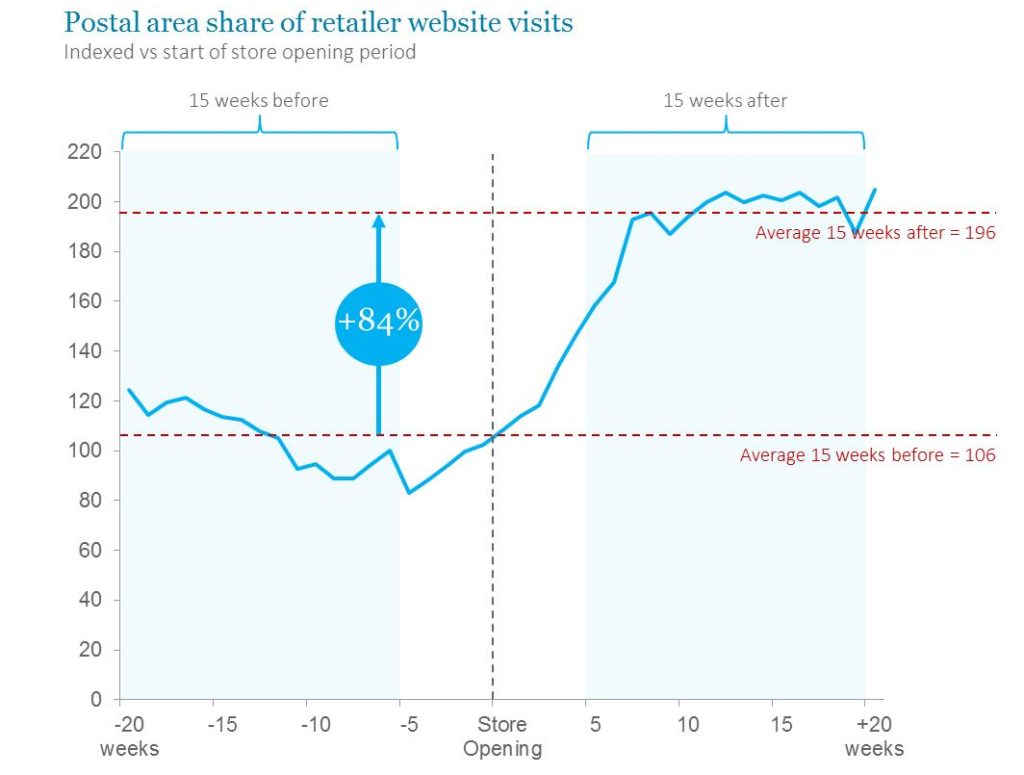 The research further showed that locally-generated web traffic remains at this increased level well after the store has opened, suggesting that the opening of physical stores sustained a positive impact on digital interaction with a brand. That report considered the effect of online activity on physical retail locations and brands, surveying 30,000 shoppers, and found that a high percentage of shoppers who made purchases "touched a store," and that online-based capabilities like click-and-collect actually helped to increase online and physical store sales.
The key findings were that 89% of all retail sales touch a store and non-food physical sales are boosted by 9% when adding click & collect sales and online sales browsed in store effectively growing the pie by making it easier for consumers to buy and stores to sell.