With 87% of shoppers beginning their product searches on digital channels, and many consumers obviously buying online many retail industry professionals called for the demise of physical retail. We welcomed the World of eCommerce as we could directly measure our cause and effect with new digital tools and metrics.
And as marketers, we all fell into this trap of seeing direct to consumer eCommerce rise and attribute that to our crackerjack marketing teams. The reality however, is that we did not fully understand or recognize the consumer path to purchase or journey.
Internal Siloed Sales Channels Create Barriers
Although consumers have become increasingly likely and comfortable to transact online, most retail consumer brands have a 'last click attribution' problem. This is where we assign credit to the last source or webpage that drove a consumer to convert. For example, if the consumer transacted online, they must have started their journey online only.
But we as consumers are not that simple.
On average most consumers require 4 or 5 touch points before buying. We were blind to the entire consumer journey and could only measure what we see which is a direct increase in online or direct sales. However, most online sales are generated as a result of consumers seeing products in real-life and interacting with them either in the street (which 9 out of 10 sales happen at retail) or in a showroom environment. As we invested more and more into digital, investments in physical retail and wholesale relationships took a back seat.
Even internally amongst organizations our digital and wholesale teams more often than not compete with one another. As a result of our silos, we became blind to how consumers shop and focused only on how they were transacting. We thought consumers bought in silos like how our organizations were setup. Quite the opposite, consumers shop between channels. In fact, 82% of consumers can convert in any channel and the consumers who spend the most shop in multiple channels.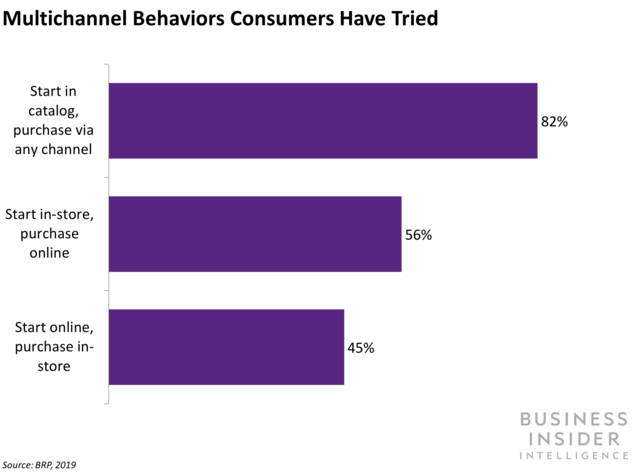 The Role of Physical Retail in the Digital Age
Aggressive direct to consumer tactics hurt relationships with our B2B customers. If dealers don't obtain the sell through or sales of a national brand they either gravitate towards their own private label or a competing brand. This severely limits the exposure to new consumers and the volumes required to scale. As more brands invest in digital, it becomes harder (ie. requires more money) to stand out above the noise. The good news is, we have a better understanding of the consumers purchase journey. We value wholesale relationships and the benefits of giving consumers the opportunity to interact with their products through brick-and-mortar locations which also drives online sales.
Consumer brands need to understand that it can't be either online or physical, but rather a partnership. We can't all raise venture capital funds like Warby Parker or Casper to open our own stores across the country either. But we can work closer with our wholesalers who have physical locations to grow each others respective business as partners. Such partnerships could result in same day store pickup or delivery by leveraging your retailers inventory to compete with Amazon and meet consumer expectations, which includes being able to experience your products in real-life.
Want to Scale Online & Wholesale Sales Together?
Learn how you can partner closer with your dealers online and off to scale your sales operations. By creating seamless omnichannel experiences you can position your best accounts to do better with your product and position your sales team (digital and field sales) for success.
Download The Enterprise Guide to Omni-Channel Ecommerce.
Inside, you'll get one-pagers detailing …
Comprehensive data on the opportunities and threats
Merchant spotlights for insights on combining sales channels
A checklist to consider when implementing an omni-channel program
Access the Guide Today
Conclusion
As it turns out, to grow online sales, we need brick and mortar to meet consumers at every step of their purchase journey. In an online only world, we will never win against Amazon. But with a renewed mindset on how your organization can partner closer with its dealers to create seamless omnichannel customer experiences you can put a long-term strategy in motion to make significant revenue gains. With the right systems and processes in place, your brand can leverage retailer locations as if they are our own to position your sales team to scale its sales operations and acquire more consumers along the way.